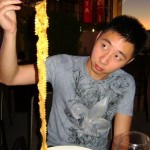 Name: Darin
Gender: Male
Birthplace: San Francisco, CA
Current City: Los Angeles, CA
Occupation: Finance
Favorite Cuisines: American, Italian, Japanese, French, Chinese
Favorite Foods: Sushi, steak (red meat in general), pasta, noodles in soup, fried chicken, dumplings, potatoes
Favorite Restaurants: Always a difficult question that always depends on something..but I typically answer Urasawa, The French Laundry and Joel Robuchon (Las Vegas) in no particular order.
Culinary Experience: I don't have any professional experience in the culinary field. In fact, I don't even work anywhere close to the restaurant industry. However, I do eat at a lot of restaurants (I've earned over 11,000 OpenTable points in my lifetime, not including 1,000-point reservations).  I appreciate good food, and am always searching for some of the best bites wherever I am.
Why a Blog?
I started this blog in order to chronicle where I've eaten and what I've eaten. Too often, I only remember a general impression of a restaurant but cannot recall individual dishes. This is especially the case where the meal is a multi-course tasting menu. How many of the 16 courses on the tasting menu at Joel Robuchon do I remember? Only a few. But I definitely remember the bread cart. I value these meals not only as nourishment, but as experiences as well. In my opinion, this is the best way for me to remember and be able to revisit these experiences.