Gavin Kaysen & Cafe Boulud
Animal
435 N Fairfax Ave
Los Angeles, CA 90048
Dining date: 4/18/11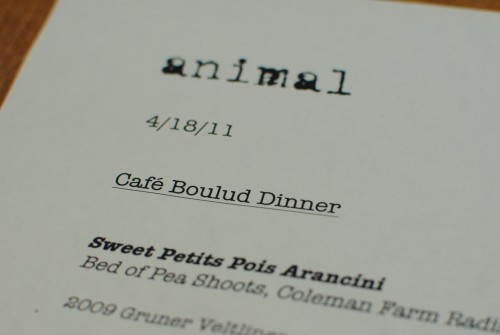 I had dinner at Cafe Boulud the last time I was in New York. I found the food to be quite good; the core concept is traditional French technique, but with modern American touches. Don't pay too much attention to the name, it's easily the most refined "cafe" I've ever been to (even garnering a Michelin star). Given that the restaurant carries the Daniel Boulud name, I suppose this isn't too much of a surprise.
Cafe Boulud's executive chef is Gavin Kaysen, a young chef who represented the U.S. in the Bocuse d'Or in 2007 and won the James Beard for Rising Star Chef of the Year in 2008. Surely, the restaurant has some big names attached to it.
A five course tasting menu was the lone option, paired with a surprisingly-reasonable $25 wine pairing.
Sweet Petits Pois Arancini Bed of Pea Shoots, Coleman Farms Radishes
2009 Gruner Veltliner, Obere Steigen, Huber
These arancini came out nice and hot. I thought they were quite good, with a well-cooked rice filling and light, crispy exterior. The radishes were a nice cleanser in between bites, though the parmesan crumbles didn't add much to the dish.
Hiramasa Crudo Compressed Watermelon, Fried Garlic, Ponzu, Cilantro Flowers
2008 Vouvray, Demi Sec, Foreau
Another solid dish here – the watermelon's sweetness really paired well with the fish. The fish's flavor was quite subtle, and the ponzu + garlic actually worked nicely as a complement, while not overpowering. I liked the texture of the fried garlic as well.
Spaghetti Nero Fra Diavlo, Prawns, Squid, Tarragon
2007 Barbaresco, 'Loretto,' De Forville
The spaghetti strands were interesting. One side of the pasta seemed to be colored with the squid ink, while the other appeared not to be. Not sure how that worked. Perfectly cooked and slightly chewy, it topped a slightly spicy tomato sauce. Though…not quite a sauce, it resembled a chunky salsa. Pretty interesting and I thought it worked. The seafood was good too, but the pasta was the star.
Caper Crusted Lamb Loin Weiser Carrots, Fava Beans, Pearl Onions, Mint Infused Lamb Jus
2009 Domaine Gramenon, La Sagesse, Cotes de Rhone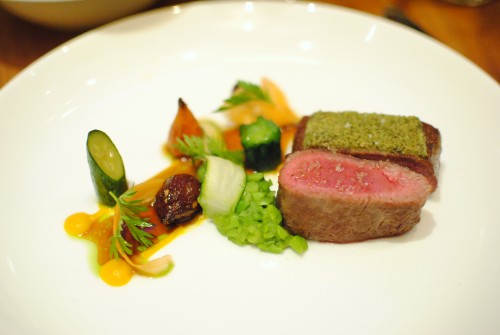 Potato Risotto
My lamb here was prepared well, though the pieces may have been a little inconsistent since one person found theirs dry. However, I was pretty happy with mine, tender and cooked a perfect medium rare. I thought the fava beans, chopped into a risotto-like texture, were wonderful. The lamb was served with a side of "potato risotto," which I thought was also awesome. The potatoes had just a little bit of bite to them in a rich, creamy sauce. Risotto meets potatoes au gratin.
Mousse au Chocolat Hazelnut Gateau, Blood Orange, Lavender Crumble
1999 Riveslates Ambre, Domaine Fontanel
This final course was a pretty good one. The blood oranges were a little tart, but contrasted well with the sweet chocolate mousse. The lavender crumble was a nice touch too, adding some crunchy texture.
I was pleased with this meal. Kaysen showcased some spring produce in a refined, focused manner. The execution was on point, and the flavors melded together well. I wasn't blown away by any of the individual courses (though the potato risotto was very memorable), but I wasn't disappointed with any either. The wine pairing was quite good, and a steal at $25.
If there was one issue, it was the portions. The five courses were all on the small side – as a result, we ended up eating the next seven courses at Son of a Gun.